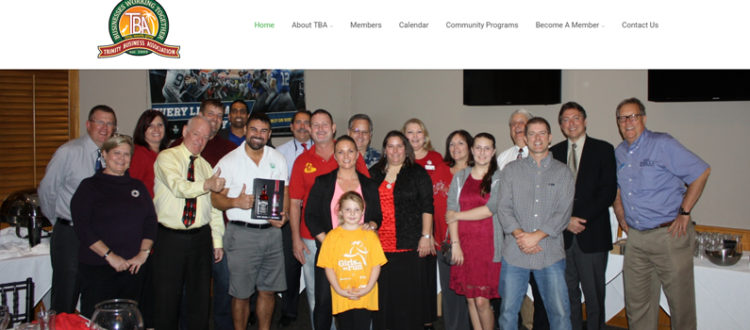 Skyway Partners with the Trinity Business Association
One of the great things about Tampa Bay area businesses is that we not only strive to serve the community, but work hard to help and support each other as well. A great example of this is the Trinity Business Association. The TBA is an organization comprised of business owners who work together to support each other and boost Trinity marketing for their businesses. The Trinity Business Association also gives back to the community through such events as fundraisers, scholarships, and race days.
Skyway Web Design and Marketing is delighted to be involved in the Trinity Business Association. Originally, Skyway's presence in the TBA focused on understanding the organization's mission, meeting fellow members, and building relationships. Skyway wanted to be able to benefit the members and provide any assistance possible wherever there was a need for it.
Skyway Web Design and Marketing Serves the TBA
That was three years ago. Relationships and trust grew, and now, Skyway hosts and maintains TBA's website. The members of TBA asked Skyway to help revamp their website. It was not mobile friendly and could benefit from some updates. Skyway gladly worked with the members of TBA to construct a completely new website that was mobile friendly. Skyway also hosts the site and does all the updates for new plug-ins and software. Skyway also maintains the website and keeps all the content up to date.
Skyway Web Design is proud to provide Trinity web design not only for the TBA but for any area businesses and organizations who are interested in our services. We are thrilled to be serving the Trinity area and benefiting businesses with our expertise in fine web design, web hosting, and SEO and marketing.
Just like the Trinity Business Association, your business or organization is also benefiting and serving our community. Skyway is here to help make sure that your mission, brand, or goal is known and visible! Our marketing and Trinity web design services will ensure that the people of Trinity are being well served not only by your website, but by your good services.