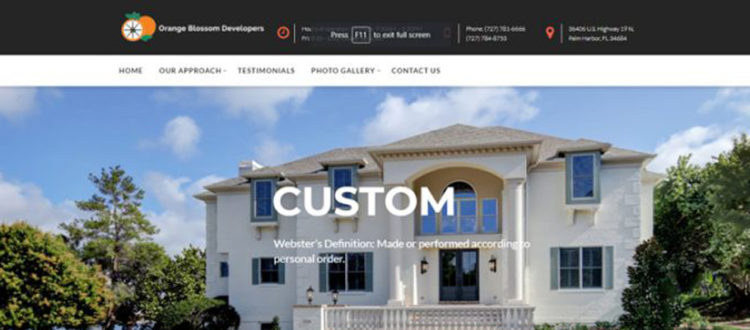 Custom Home Builder Thrives with New Website Design
Orange Blossom Developers is a custom home builder based in Palm Harbor, Florida who realized they needed a custom web design as much as their clients needed custom home designs.
They have had a website online for more than a decade but their previous website was old and outdated.
They needed a website redesign and turned to Skyway Web Design and Marketing.
I asked Brooke Hughes of Orange Blossom Developers if she would share with us her thoughts on their old website, the website building process, and how their new website has impacted their company.
Q: Tell me about the situation you were in with your old website. What were the issues that led you to want a new site?
A: The main issues with the old site was it was not cell phone compatible, and it looked dated. With most people using their cell phone to access our website, it was a big concern. We wanted to look current and up to date with our technology footprint. We also needed a site that can be easily updated with new photos of our latest projects. Pictures for us as builders create a lot of the initial draw.
Q: What was the process like working with Skyway Web Design and Marketing?
A: Working with Skyway was a pleasure. With us not really being technology savvy, their insight and ability to listen and hear what we were saying was very helpful.
They were inquisitive and thoughtful regarding what we were looking for. They found excellent samples/themes for us to view and choose from and get a good idea of what our website might look like. They were upfront with timeframe expectations and met them all. When they didn't like the way a certain function worked on the new sight they researched it a found a better solution. (i.e.: gallery) I truly felt like we were working together to find the right website for Orange Blossom Developers, Inc.
Q: What are some of the benefits you see the new website providing to the your company?
A: The site looks awesome! It is very attractive and eye catching. I love that we have big photos to capture the viewers' attention right off the bat. The functionality of it is very smooth. I also like that you will receive a pretty good summary of Orange Blossom and what we do on the very first page, just by scrolling down. It is providing us with a great tool to showcase our latest work and draw our customers in to discuss what their dream homes look like and how we can be their builder.
Take a look below at Orange Blossom Developers' new homepage.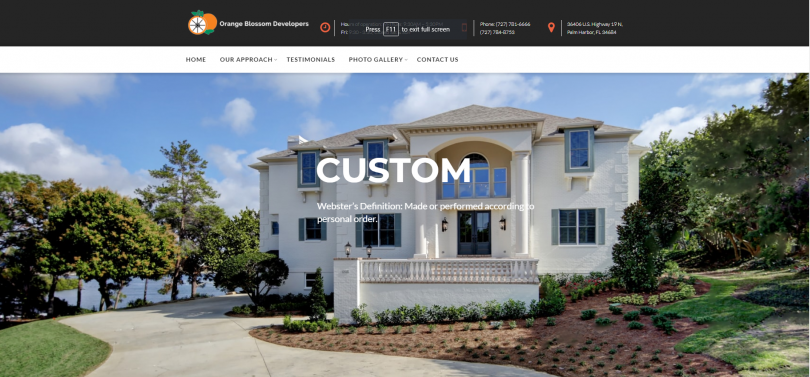 You can check out their full site at http://orangeblossom.org/
Is your website in need of a redesign? Do you want to work with someone who can guide you through the process so you don't need to embark on it solo? Skyway Web Design and Marketing is the leader in Trinity web design and Trinity SEO services. Contact us to schedule a free consultation.