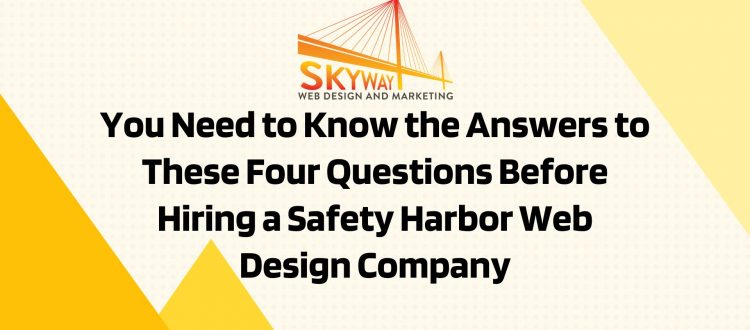 You Need to Know the Answers to These Four Questions Before Hiring a Safety Harbor Web Design Company
Do you own or work for a company in Safety Harbor, FL that is thinking about getting a new website?
Before you hire a Safety Harbor web design company, there are several decisions you need to make internally. When you're in the preliminary stages of contacting website development firms and asking for proposals, there are certain questions every web development firm will ask to help define the size and scope of the project. If you don't know the answers when you speak with them, it's going to delay the process as you go back to your team and figure these things out.
Video: 4 Questions to Answer Before You Hire a Safety Harbor Web Design Company
Video Notes:
Some things should consider before hiring someone to build a website for your company which includes: 

Creating a web team. 

It is important to have a team to help make decisions for the website. 

You should also understand the purpose of your website. 

When your website should be an investment, not an expense. 

When you put money into an investment you should expect a return on the investment. 

Another thing to know is that not all websites are made equally. 

There are custom websites that may cost more but be better suited for your needs

Or an inexpensive website that may not fit your needs completely. 

Another thing that is often overlooked is having a plan to evaluate the effectiveness of the website. 

You should have a way to measure how many people are visiting your website so that you understand how well your investment is working for you.
Watch the full video to get more details and guidance for answering these questions for yourself or your company.
Got any comments or questions? Post them below and we'll respond.
If your company needs SEO or web design in Safety Harbor, New Port Richey, Safety Harbor, Clearwater or Tampa, Florida, contact our team at Skyway Web Design and Marketing for a quote.