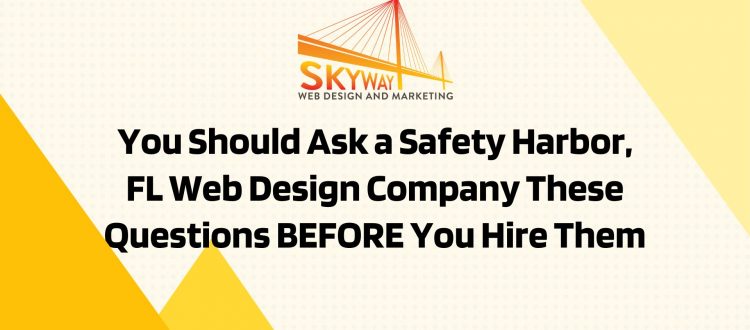 You Should Ask a Safety Harbor, FL Web Design Company These Questions BEFORE You Hire Them
Are you thinking about getting a new website and you own or work for a company in Safety Harbor, FL? There are some important questions you should ask each and every website development company you're considering before you hire any Safety Harbor web design company.
In this video, Mark Steinbrueck of Skyway Web Design and Marketing explains these questions as well as why they're important.
Video: You Should Ask a Safety Harbor, FL Web Design Company These Questions BEFORE You Hire Them
Video Notes:
The six primary questions you should ask a prospective website development company that you are thinking of hiring are:

What is their mission?

A website developer should be concerned with the success of your business over just making money.

Are they an individual or a company and, are they full-time web developers

Part-time developers have other priorities besides your business. This means you may not get the same amount of attention or response time as
Another benefit of working with a company rather than an individual is if you are unsatisfied with the service you can speak with a higher authority within the company to get a resolution.
Another disadvantage with working with a freelancer is if they are ill or unavailable, your project may not be completed promptly or at all.

Another important question to ask is what platform are they using to build the website and is that platform transferable so that you can make updates or edits?

It is advisable to use a web-based non-proprietary software so that you can use it anywhere that you have internet access.

You should also ask, what other websites have they developed?

Ask to view their portfolio to see if you like the work they have done.

You should also ask, what kind of support can you expect and how they provide that support.

Some companies only provide a limited amount of support that may only last a few months.

Lastly, you should ask for references.

Don't be afraid to ask for clients' information to ask what their experience was when working with them.
You can get all the details, including they these questions are important, by watching the short video.
If you'd like more information about Skyway Web Design and Marketing's web design services, please contact us, today, and request a free, no obligation consultation.
Got any comments or questions? Post them below and we'll respond.