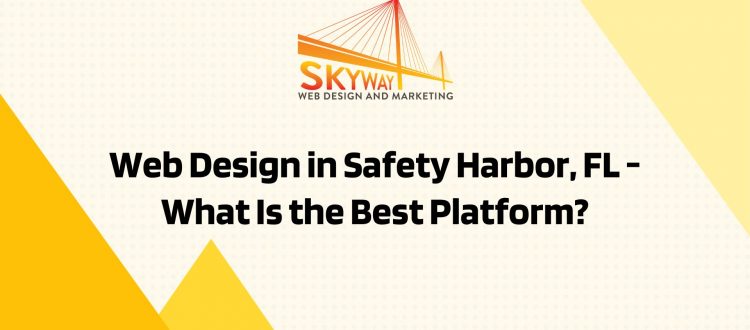 Web Design in Safety Harbor, FL – What Is the Best Platform?
Are you looking for Web design services in Safety Harbor, FL? One of the first things you'll need to decide is what platform (software or system) to use for your new website. There are many options to choose from.
In this video, Mark Steinbrueck, co-founder of Skyway Web Design and Marketing explains 4 factors to consider in choosing the best website platform.
Quick Video Notes:
There are four things to take into consideration when evaluating what website platform to use for your organization's website. 

The first thing to consider is whether or not it is an online or desktop platform.

Online website platforms allow you to access the dashboard or backend of your website anywhere you have an internet connection. 

A desktop platform means you are only able to access your website on the desktop that has the software loaded onto it. Because each team member of a website build would need to have the software loaded onto their device this makes the online platform a better option. 

Another thing to take into consideration with the software is whether or not it is proprietary. 

Proprietary software means that the company owns the rights to the software making it only usable with their company. This means that should you want to leave the company that built the website, you would not be able to take the website with you. 

Therefore non-proprietary software is a better option because it allows you to keep your website if you were unhappy with the service of the company and wanted to leave. 

The third thing to consider is the ease of use of the software. 

Lastly, be aware of the support that is provided. 

Are updates being made to the software? 

Is there are developer or support staff you can contact if you have questions or issues? 

Skyway Web Design and Marketing uses the largest most accessible website platform in the world to design and build websites for customers. 

It is supported by thousands of website developers. 

Skyway Web does constant upgrades to keep it secure

It is an online platform so that the clients are able to access it anywhere they have an internet connection.
For a full explanation, please watch the video. It's only a few minutes.
Got any comments or questions? Post them below and we'll respond.
And if there's anything we can do to help you and your business with web design in Safety Harbor, FL, give us a call or fill out the contact form so we can discuss it with you.