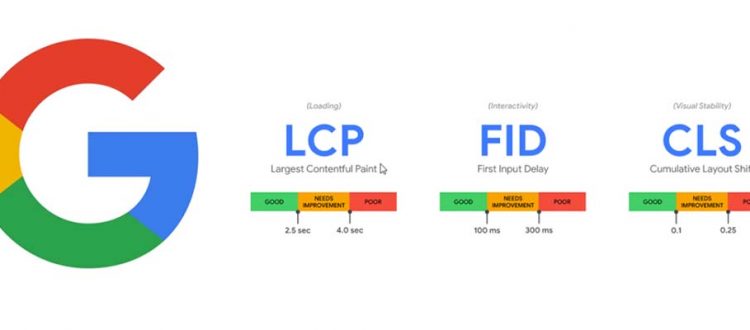 Core Web Vitals Google Update: What You Need to Know
Google is going to start rolling out a "Core Web Vitals" algorithm change later this month. It has taken the unusual steps of announcing the change in advance, providing specific details about what will become ranking factors, and providing specific recommendations to improve these factors.
What are Core Web Vitals?
Core Web Vitals (CWV) are a new set of metrics created by Google which are intended to evaluate a website visitor's experience. Google will be making CWV a factor in its search ranking algorithm. Previously Google introduced Page Speed as a search ranking factor. Core Web Vitals expand on this.
What specifically is Google measuring with Core Web Vitals?
Core Web Vitals are made up of 3 elements:
Largest Contentful Paint (LCP) – The time it takes for the largest image or text block on a visitor's screen to fully load.
First Input Delay (FID) – The time it takes for a page to be ready for user interactivity.
Cumulative Layout Shift (CLS) – The amount of movement or shifting content does while the page is loading.
Google measures each of these items and then rates a page as either:
Good/passes
Needs improvement
Failed

When will Core Web Vitals become a ranking factor?
Google says they will start rolling the CWV update out in mid June and the rollout should be complete in August.
How much will Core Web Vitals impact search rankings?
According to Google, "While this update is designed to highlight pages that offer great user experiences, page experience remains one of many factors our systems take into account… Given this, sites generally should not expect drastic changes."
What is Skyway Web Design and Marketing doing about CWV?
Skyway Web Design and Marketing is testing all SEO client sites and custom designed websites, and making improvements where necessary.
More specifically, for LCP (Largest Contentful Paint), we are optimizing large media items (images, videos, slider photos) to optimal compression and dimensions. This will ensure that pages containing this content will load as fast as possible and yield the best possible LCP score.
For FID (First Input Delay), fortunately we are not seeing many issues with this.
For CLS (Cumulative Layout Shift), we are making custom adjustments to dynamically-generated content such as image sliders that cause some elements to move while the page is loading to eliminate as much movement as possible.
I have a website that was custom designed by Skyway Web Design and Marketing. What do I need to do about CWT?
Nothing. Our team is testing all custom designed websites. If any aspect of a custom designed site does not pass the CWV test, we will improve it before Google's CWV update rolls out.
Skyway Web Design and Marketing manages the SEO of my website. What do I need to do about CWV?
Most of our SEO clients also have custom designed websites. In this case, as stated above, we will test your site and make any necessary improvements. If your website is one of a handful for which we manage the SEO but didn't build the website itself, we will test your website and send you recommendations which you can pass along to your website developer.
I want to test my website's Core Web Vitals myself to see how it's doing. What's the best way to do that?
The best way to test your website's Core Web Vitals is to integrate it with Google Search Console. GSC now has a Core Web Vitals report. (GSC also provides numerous other helpful reports, so it's worth the time and effort.)
The fastest and easiest way to check Core Web Vitals scores is to go to GTmetrix.com and enter your web address. CWV scores are displayed in the results like this:

(Note that GTmetrix shows a TBT score instead of FID. TBT is not exactly the same, but it's a useful substitute.)
Is your website ready for the upcoming Core Web Vitals Google algorithm update?
Questions? Comments?
If you have any questions or comments about Core Web Vitals, please post them in a comment below. And if you're at the point where you're ready to stop trying to keep up with Google on your own and want some help to get better search rankings and more visitors to your website, fill out the form below to schedule a free, no obligation call to discuss how Skyway Web Design and Marketing's SEO services.