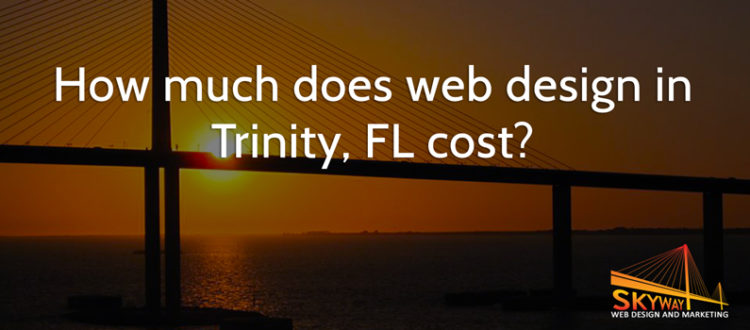 How much does web design in Trinity, FL cost?
Are you looking for web design in Trinity, FL?  One of the most common questions we're asked is,
"How much does it cost to design a website?"
There are a number of factors that impact web design cost.  In this video, Mark Steinbrueck, co-founder of SkywayWeb Design and Marketing explains the things that impact the cost to design a new website so you can weigh these factors into your web design decisions.
Video: How Much Does Web Design in Trinity, FL
Video Notes:
How much web design costs is the most common question we get.
There are several factors that go into the cost. These include:

Will you use a web builder and build it yourself or have someone custom build the site?
Are you working directly with a person or going through an automated form?
Is the web designer performing content mapping before building the site.?
Are you using a premade design or a custom design?
What kind of functionality do you need?
How much content is your designer putting onto your site?
Is there website editing and maintenance training included and what kind of training is it?
What level of support will you get after the site is built?
Does the design include hosting, a domain name, email, etc.?

Mark also discusses the cost range for website design for most websites.
Watch the full video to get all the details.
If you'd like to learn more about what it might cost for the website you need built, Skyway Web Design and Marketing would be happy to discuss it with you. Please contact us, today, for a free consultation.
Got any comments or questions? Post them below and we'll respond.