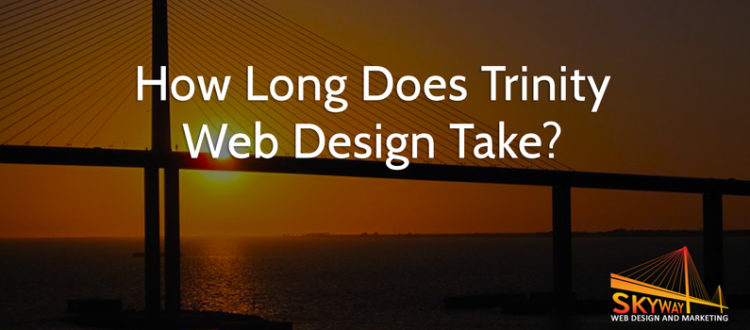 How Long Does Trinity Web Design Take?
Considering web design in Trinity, FL?  One of the most common questions we're asked is, "How long does it take to design a website?"  There are a number of factors that impact the web design schedule.  In this video, Mark Steinbrueck, co-founder of SkywayWeb Design and Marketing explains the things that impact how long it takes to design a website so you can weigh these factors into your web design decisions.
Notes from the Video:
There are 4 aspects which impact website design build time:

Premade designs are quicker than custom designs.
The number of revisions you want in the design will affect how long it takes.
The more content, features, and functionality you want on your website, the more time it will take.
The response time of the developer and client greatly impact the build time.

The average time-frame for a build is anywhere from 1 -2 months on the low end and 3 months of so for more customized and complex websites.
For more detailed information, please click to watch the full video.
Got any comments or questions? Post them below and we'll respond.
If you need a new website and are looking for website design in Trinity, New Port Richey, Safety Harbor, Clearwater, or anywhere in the Tampa Bay area, contact us to schedule a free consultation.