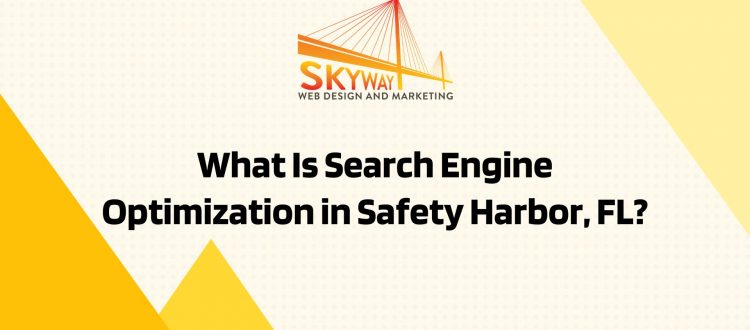 What Is Search Engine Optimization in Safety Harbor, FL?
Do you own or have responsibility for marketing a business in Safety Harbor, FL? Are you open to attracting and connecting with more customers online and have you heard that you can do this with better search engine rankings and SEO?
There are a lot of misconceptions about SEO in Safety Harbor, FL.  In this video, Paul Steinbrueck of Skyway Web Design and Marketing helps you understand what search engine optimization (SEO) may or may not include. This is critical information you need when considering or comparing SEO services and SEO companies in Safety Harbor.
Video: What Is Search Engine Optimization in Safety Harbor, FL?
Video Notes:
(SEO) is short for Search Engine Optimization which deals with getting better search engine rankings and moving your website to the top of the search results. There are many factors that go into SEO some of which are:  

Keyword research helps to determine the best keywords to use

Website management to make sure the structure of the website is such that nothing will prevent the search engines from reading or indexing the website correctly. 

On-page Optimization making changes to the visible content of the pages and behind the scene elements. 

Setting up, verifying, and optimizing local listings 

Off-Page elements such as link building, to get other websites to link to yours

Content Marketing is another component of SEO that entails fresh relevant content like blog posts or videos. 

There is also ongoing SEO that should be included since SEO is not simply a one-and-done service because search engines are ever-changing their algorithms and you are constantly updating and changing the information on your website. This means that an SEO service should: 

Monitor search rankings

Monitor the website 

Monitoring the search engines and making adjustments accordingly to keep your rankings high. 

 These are just brief explanations of what goes into an SEO service.
You can get the full details of these note by watching the full video about SEO in Safety Harbor FL.
Got any comments or questions? Post them below and we'll respond.